Professional Leadership Development:
Vision, Empowerment, Command, and Rational Thinking
Organization and Delegation
Critical Thinking
Interpersonal Effectiveness
Empowering Staff
Authentic Communication
Role as Change Agent
Creativity / Innovativeness
Outside-the-Box Thinking
Motivation
Self-Management
Sustainable Change
Intentional Living
and other skills as required.
Only laser-focused leaders can impact the strategic objective to increase profits, decrease expenditures, lower turnover, and boost performance.
Successful corporate leaders know how to inspire and implement. JSK Coaching Associates gives them the tools, techniques, and approaches that drive results, that move them from inspiration to implementation. Our clients inspire the people they lead. Each and every leader we serve influences people and outcomes in a profound way.
Executive Coaching:
Initial Intake Interview

-- With leader and immediate director, to flush out the person's role, the growth opportunities, and the organization's objectives / culture; then, individually to strategize the professional development goals and design an action plan



Optional Self-Evaluation Forms (Intake)

-- A review of critical areas in survey format (various methods or live); or, as provided by the organization. Optional assessments available upon request.



Optional 360º Assessment with Report

-- Feedback from your immediate circle (360°) on your capabilities. At start and close of coaching engagement, we administer the anonymous survey, taken by you, and your superior, peers, direct reports, clients, vendors, colleagues, and family you chose.



On-Site Sessions

-- Face-to-face meetings on-site at the work location (or a specified off-site locale), at appointed times for 1-2 hours each week or month, per schedules. (Telephone coaching options upon request.)



6-Month Program

-- The time it takes to see results. Over at least 13 coaching sessions, from intake to debrief. We ask you to make the commitment .



Unlimited Support

-- Leaders may brief the coach by email on interim progress, session feedback, weekly SWOT analysis, or other markers. On-call phone support as a sounding board is available under urgent circumstances (per availability).



100% Confidentiality

-- Conversation, communication, and assessments are held confidential, unless by prior agreement to share with management directors.



Online Goal Tracking

(Optional)

-- Your progress continues outside of executive coaching sessions. Some clients prefer to track feedback and timelines online. (Under construction.)



Temperament Sorter

(Optional)

-- Survey your personality type and tendencies with the Keirsey temperament sorter (MBTI-compatible).
Leadership coaching consistently delivers value, per studies with Fortune 500 companies.*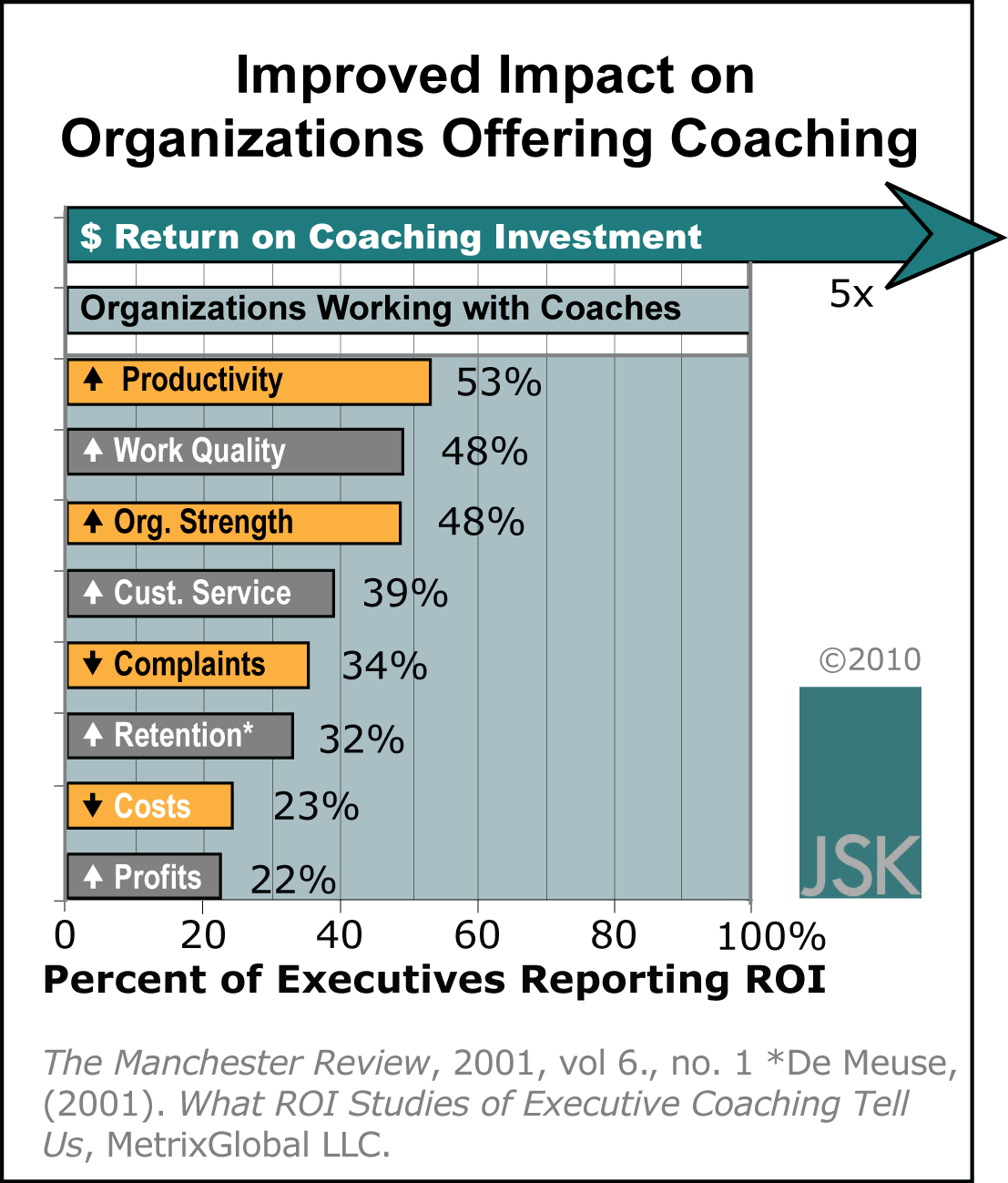 **
The greatest overall benefit monetized from executive coaching relates, not to individual tactical issues but, to drive strategic value for organizations.
We may not change the world. However, we will transform yours.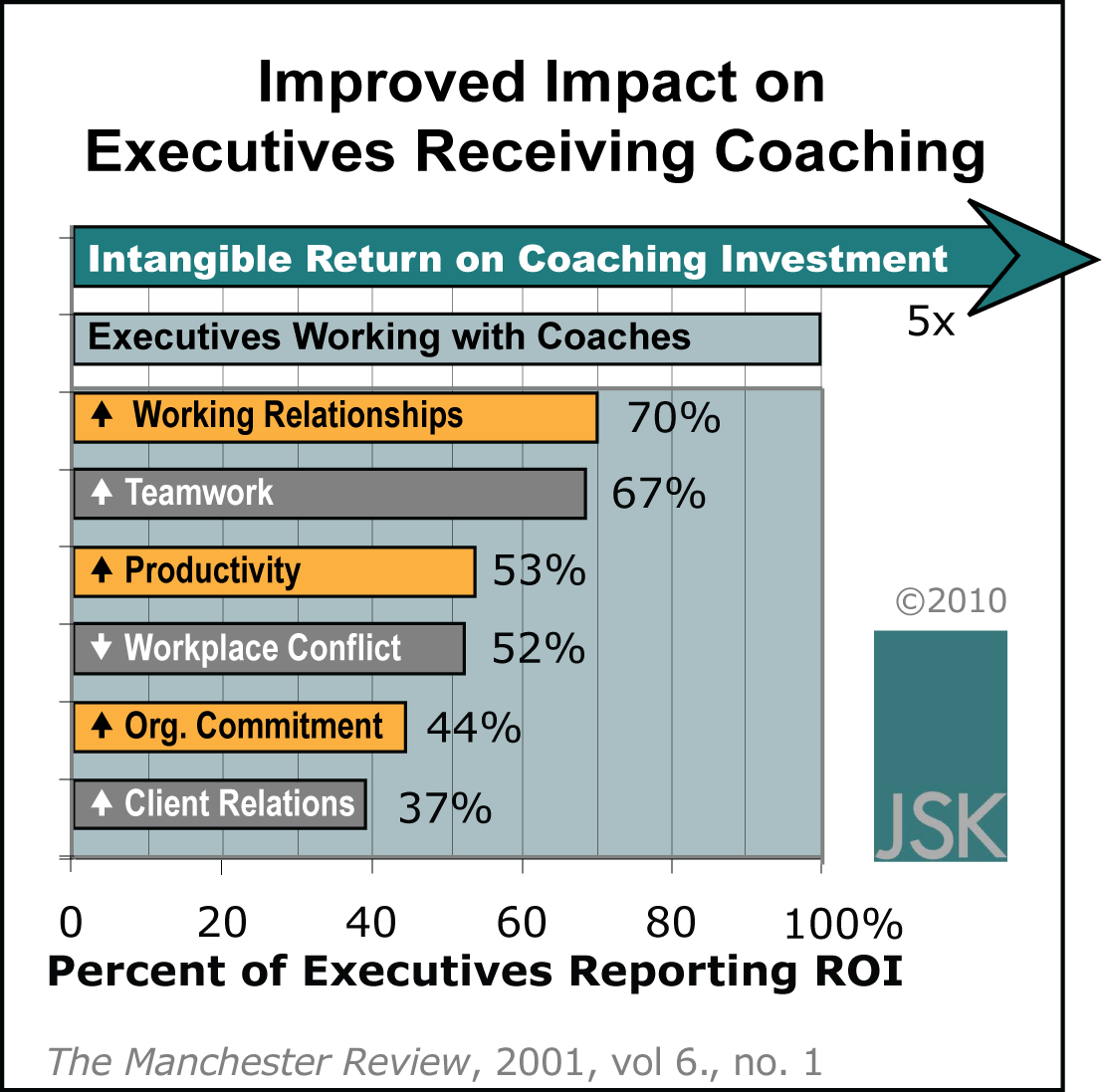 **
"Cost savings gained through increases in personal effectiveness pale in comparison to the strategic value organizations realize when leaders are retained in critical positions or revenue is increased through stronger market leadership." De Meuse, et. al., (2009).

Client Testimonies
"…of 140 companies, 9 in 10 executives believe coaching to be worth their time and dollars. The average return (on investment) was more than $5 for each $1 spent."
Journalist: Kelly Pate, "Coaches Help Execs Get Comfortable In New Roles," The Denver Post , September 2, 2001
"I found your approach to facilitate our uncovering limiting beliefs, paradigms and values surprising fast, easy and deep and unique."
Client: Linda Buggy, Vice President, Garthwaite Partners International, CT